Meet the Active Chiropractic Health & Wellness Team
Dr. Caleb Foreman
After graduating High school in Norman, OK, and traveling over a few years, Dr. Foreman, was seeking a career in the medical field. He researched many different specialties to find which one he would enjoy most. Having experienced and seen many different things such as Chinese medicine, and watching his mother go through spinal surgery, he decided that chiropractic would be a good fit. He wanted to be able to help people naturally and avoid surgery if possible.

Megan, Massage Therapist/Certified Chiropractic Assistant
I was born and raised right here in Oklahoma City, where I now make a home with my husband. I received my degree in Therapeutic Massage from Heritage College, and I was hired shortly after by Dr. Wines to serve as the in-house massage therapist. I have been working at Active Chiropractic Health and Wellness since June of 2010.
What I love most about working at Active Chiropractic has to be the patients. Being able to offer a better quality of life through noninvasive, drug free treatment is so rewarding. I couldn't ask for a better career. I believe I work at the best chiropractic office in the state of Oklahoma, and it has the most uplifting and encouraging environment.


Ruthie, Certified Chiropractic Assistant
I have been called a skeptic a time or two. Before coming to work for Active Chiropractic Health & Wellness, I was unaware of the fantastic benefits of chiropractic care. As a mom of 3 teenagers, I know that it is sometimes hard to care for myself. I also worked for a company that was not a great fit. It was a "JOB" that worked me until my body hurt. There I met a wonderful person that introduced me in to the world of chiropractic. I was able to experience care as a new patient when I became part of the Active Chiropractic family. I am constantly smiling because I now know the feeling of being pain free. I have met so many wonderful people, and it is great to help them take continuous steps to LIVING. I no longer have a "JOB," I have a "LIFESTYLE" in which wellness is the goal. Join me in the smiling frenzy!!


Julia Pezant, Licensed Massage Therapist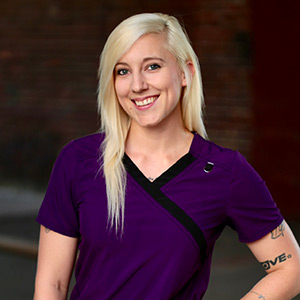 Born into this domesticated life with the heart of a very passionate thing, I possess a superabundance of energy in living a fulfilling life and helping others do so as well. Massage therapy is how I've chosen to foster that.
I graduated from the Massage Therapy program at Central Oklahoma College in December 2018 and successfully jumped through all the hoops involved with Oklahoma licensure shortly thereafter. I'm currently mastering the details of Swedish, Deep Tissue, and Sports Massage. I get amped about empowering clients to further understand their own bodies and the connectedness of it all. I also get pretty amped about finding trigger points and helping dissipate those bad boys.
My journey with Active Chiropractic began as a satisfied patient and I'm grateful to now be working alongside such a knowledgeable and inspiring crew of humans. I love questions and I love learning. Let's heal together.
Schedule your appointment today:
405-802-1323 / juliapezant@gmail.com


Lily Soto
I was born and raised here in Oklahoma! I knew nothing about chiropractic prior to coming in with my grandmother, who speaks very little English to translate, as she was seeking knee pain relief. As soon as I walked into the office the environment was full of good energy, I felt so welcomed and at home. My grandmother started to feel relief for the first time in 20 years and we were so elated! I was hired shortly after as a bilingual chiropractic assistant in hopes of helping more of the hispanic community. Being a part of the Active Chiro family, meeting so many people, along with helping so many people without the use of medication and surgeries has been/is so rewarding.


Nikki Burkhalter
I was born and raised in a small country town in Oklahoma. I grew up as an only child so I always knew as an adult I would want to have a large family. My husband and I have been married for almost twenty years and have eight children, four grandchildren, and one fur baby. Faith, family, and service to others is what drives me on a day-to-day basis & is also the main reason that I enjoy being a part of the Active Chiropractic family. I've been to many different doctors and medical facilities in the past as a patient and I have to say that the care here at Active Chiropractic surpasses any clinic I've ever been to. I'm delighted to be a member of such an amazing team!


Gisselle Godinez
I was born and raised in Norman, Ok, with a strong family orientation that has taught me the importance of being the supportive and caring person I am today. I strive to become a better person everyday and keep learning and growing. I am pleased to have the skill of being bilingual in English and Spanish to communicate and help those that have a language barrier that could potentially prevent them from getting the attention they need with the same care as everyone else.
It's amazing how chiropractic care can help improve your overall health, which I didn't know before I started working here. From the moment I first walked into the active chiropractic office I noticed how enthusiastic, joyful, and welcoming everyone is. I am grateful to be a part of an attentive and caring office that truly cares about each patient. My favorite part is being able to see patients feeling much better after their visits.

Active Chiropractic Health & Wellness Team | (405) 321-9300