Pediatrics and Pregnancy Chiropractic Care in Norman
Expecting moms go through incredible changes and developments. When Dr. Wines' wife was pregnant with their first child, and following the birth of their son, Dr. Wines developed an interest in perinatal and pediatric chiropractic care. He's trained with the International Chiropractic Pediatric Association (ICPA) and focuses on making visits to Active Chiropractic Health & Wellness fun and comfortable for the entire family.
Solutions for Pregnancy Concerns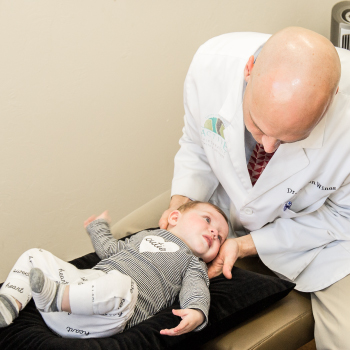 Dr. Wines provides care that will keep you relaxed through the biomechanical shifts in your body at each stage of pregnancy. As your baby grows, you might experience low back pain, mid back discomfort, sciatica and more. Chiropractic care is shown to improve your comfort level and sleeping patterns, assist in a quicker, easier birth and can even balance your pelvis so your baby can get into the proper position. Dr. Wines is certified in the Webster Technique.
A Happy, Healthy Childhood
Once your baby is born, we encourage you to bring them in for a check to ensure that the birth experience hasn't had a negative effect on their spine and nervous system. They can see us from just days old. Many infants and children see Dr. Wines for problems such as
Acid reflux
Allergies
Asthma
Colic
Constipation
Diarrhea
Ear infections
It's important to keep in mind that chiropractic doesn't cure these issues. Rather, it treats the nervous system, which can have a positive impact on numerous conditions. Children under chiropractic care are sick less often, with no medications required for treatment. An adjustment is all that's necessary to get the body functioning the way it was intended to.
Gentle, Easy Techniques
Pregnant moms enjoy lying on our drop table, which doesn't involve any rotation or twisting of the pelvis. Dr. Wines uses an Activator® or soft tissue techniques to improve your mobility.
Children are adjusted much differently from adults, with just a sustained contact of the fingertips necessary for our youngest patients. They also see quick results, since their problems have usually not been present for years.
To find out more about pediatrics and pregnancy in Norman, contact us today!

Pediatrics & Pregnancy Chiropractic Care Norman | (405) 321-9300